Backyards can be a very versatile place, from the place you go to admire nature to the place you invite your friends and entertain them for a fun night in. And, if you're crafty like we are, you're probably wondering how you can use all those mason jars you have lying around to enhance your backyard setting (BTW—here are 11 historic facts to learn about everyone's favorite country staple). Though you can always use your jars to make delicious desserts and refreshing summer drinks, like our mason jar lemonade and watermelon frosé, these jars can also be used for a variety of other things. Here, you'll will find a comprehensive list of all your options, from lanterns and wind chimes to drink coasters and bird feeders!
1. Centerpiece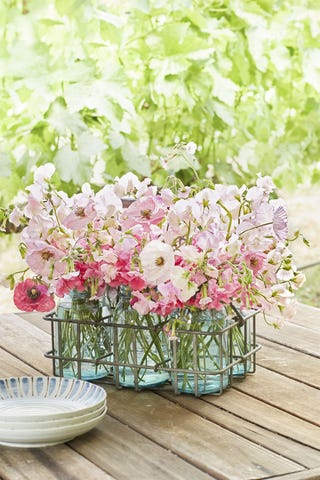 The pink and white flowers with the vintage blue mason jars create a charming contrast in this simple arrangement. Using everyday 8-ounce mason jars in a metal milk carrier make for an easy (and portable!) centerpiece. Place clear tape across the mouth of each jar in a grid pattern to keep blooms upright and evenly spaced.
2. Lantern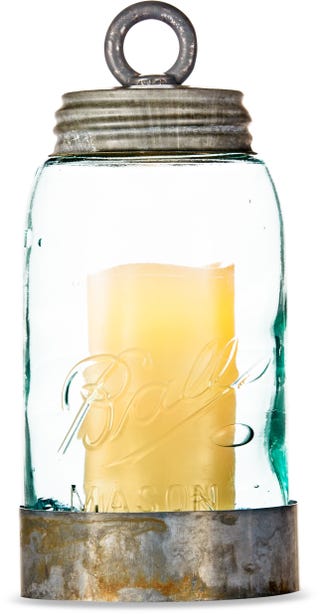 Cut a hole in the center of lid. Insert an "M8x13" ring in hole and screw in place with a nut. Epoxy a tarnished strip of galvanized steel around a vintage blue 24-ounce jar. Insert battery candle in jar; add lid.
3. Place Setting
Insert a folded napkin or bandana together with your silverware set into a wide-mouth 16-ounce mason jar. If for a bigger event with reserved seatings, add a place card on top.
4. Coasters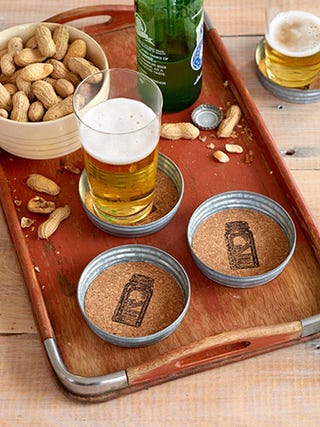 If you have a few spare mason jar lids around your house but nothing to do with them, why not make them into cool coasters? You'll first need to gather your lids and place them upside down on top of adhesive cork shelf liner. Trace around the lids with a pen, then cut out the circles. Then, peel the backing off the cork circles, affix within the lids, and crack open a cold one.
5. Flower Vase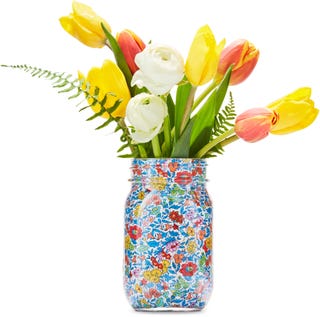 Cut flower-patterned fabric into 1/2 inch strips and adhere to the inside of a 16-ounce, regular-mouth jar with Mod Podge. Fill with flowers and it'll be the most delicate decoration for your backyard!